If you or a family member are interested in learning more about Friendship Manor and independent senior living, we're here to help. Call us today!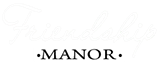 6647 El Colegio Road
Goleta, California 93117
Phone: (805) 968-0771
Fax: (805) 968-2182
Friendship Manor is a non-profit charitable retirement community serving senior citizens age 62 and over, providing a unique niche for seniors who want to live independently and are in need of simple services.
Since 1973, we have been devoted to our community by providing an affordable place for seniors to live in the Santa Barbara area. Friendship Manor is not just a place to stay, but a home that provides comfortable surroundings, which reinforce self-respect, self-esteem, and the dignity of aging. This atmosphere promotes life and prolongs independence.
Friendship Manor is the affordable solution to independent senior living; it is unique in that seniors across the income spectrum can apply.
With regularly scheduled meals, caring staff, van transportation and social opportunities, our residents live in an environment that promotes a sense of well-being.